ThetaHealing® Meditation Services
Develop Spirituality | Heal Anxiety and Depression | Emotional Re-balancing
What is ThetaHealing®?
The ThetaHealing meditation technique was created by Vianna Stibal in 1995 during her own personal journey back to health. Her original book details her healing journey and her connection to the Creator utilizing her meditation technique.
The ThetaHealing technique is a meditation technique utilizing a spiritual philosophy with the purpose of improvement in mind, body and spirit while getting closer to the Creator of All That Is. It is a focused prayer to the Creator and allows you to train your mind, body and spirit to clear limiting beliefs and live life with positive thoughts, developing virtues in all that we do. Through meditation and prayer, the ThetaHealing Technique creates a positive lifestyle.
The ThetaHealing technique is always taught to be used with conventional medicine. It teaches how to put to use one's natural intuition, relying upon unconditional love of Creator Of All That Is to do the actual "work." We believe by focused prayer utilizing a "Theta" and "delta" brainwave (incorporating physics and quantum physics), you can witness the Creator Of All That Is create instantaneous physical and emotional wellbeing. We have learned that through the ThetaHealing Technique, intuitive abilities can be used to bring about spontaneous changes and physical and emotional wellbeing.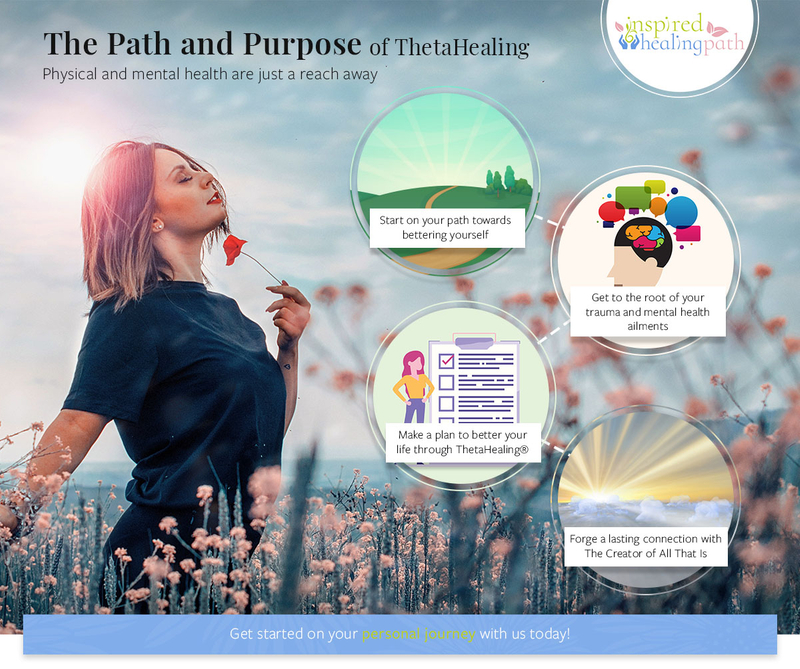 The ThetaHealing® technique involves entering into the theta brainwave and connecting to Creator, or whomever you would call co-creator in your life, to facilitate the healing process. During this connection, the practitioner is able to identify physical, mental, spiritual and emotional blocks to you moving forward in your life and instantaneously make the changes you need to be able to achieve your fullest potential. This includes finding out the source behind sickness, disease and injury, and then reprogramming your unconscious mind to heal from them.
ThetaHealing® also helps you connect to loved ones who have passed, your spirit guides and angel guardians for guidance and healing. This technique can also help you look into and manifest the future and adjust your decisions today to improve the outcome if desired.
Vianna Stibal, the founder of Theta Healing®, describes this modality as "an attainable miracle for your life." Using ThetaHealing®, you can connect to the highest power and experience the true wisdom of unconditional love. No wonder ThetaHealing® is the "most powerful, potent, profound, fastest-growing, cutting-edge and healing paradigm on the planet at this time."
ThetaHealing® Benefits
ThetaHealing® can help you improve your physical, mental, emotional and spiritual health. Here are some of the benefits many recipients have experienced:
Clarity with life purpose and path
Removal of fear and traumas holding them back
Emotional re-balancing
Improved abundance
Increased feelings of joy, fun and freedom
Improved health and well-being, including finding your healthy weight
Ability to heal family relationships and establish stronger connections with others
Enhanced spiritual connection
Increased confidence and positive thinking
Other areas ThetaHealing® can help:
Abandonment and rejection
Addictions and substance abuse
Allergies
Anger management
Anxiety, worry and panic attacks
Depression
Divorce and separation
Fears (including fear of commitment)
Self-esteem and confidence
Emotional balance
Envy and jealousy
Grief and guilt
Health issues (including diseases, disorders and illnesses)
Heartbreak, pain and loss
Isolation and loneliness
Life/ soul path and purpose
Love, intimacy, and soul mates
Mental health
Motivation and inspiration
Physical, psychological and emotional trauma and accidents
Rejection, resentments and regrets
Relationships (including working relationships, partners and family)
Sexual Issues
Shame and embarrassment
Spiritual and personal development
Stress
To learn more about the ThetaHealing technique, visit www.thetahealing.com.
Book an Appointment Today!
75-minute introductory session: $128 total with taxes (suitable for those new to energy healing)
60-minute session: $118 total
30-minute session: $68 total
20-minute Complimentary Consultation

I am so grateful to have met Ainsley when I did...
"I am so grateful to have met Ainsley when I did. I have tried Reiki once via distance with another practitioner and I found no difference. When I had my first session with Ainsley I was not in an emotionally good space. I had no clue if I was coming or going. I have now completed 4 sessions with Ainsley and I feel so at peace and I know where I stand in my life. Ainsley is so compassionate caring and attentive. I am so blessed to have found her."
– N.M., Mississauga

I had a great experience with Ainsley...
"I had a great experience with Ainsley and Theta healing. It was a profound voyage into subconscious, full of cleansing, healing and discoveries. Ainsley was prepared, respectful, using her experience, training and intuition to help me notice and change several subconscious beliefs that were blocking me on my current path. I highly recommend Ainsley and this modality."
-D.R., Toronto

She genuinely cares about the health and well-being of her clients...
"I have had a Reiki sessions with other Practitioners, but the session with Ainsley seemed much more unique and authentic. I feel that for Ainsley, her work is not just a business. She truly believes in what she does; she genuinely cares about the health and well-being of her clients and it shows during a session with her."
-E.L., Etobicoke

My experience has been amazing...
"I have had ThetaHealing with Ainsley and my experience has been amazing! She is so compassionate, caring and sweet. She makes you feel very comfortable. After my sessions I felt more balanced, inspired and motivated, and I had more clarity as to what I needed to do regarding my presenting concern. It's worth every single minute of your time!"
– Mely Em, Etobicoke

I highly recommend Theta Healing with Ainsley...
"If you're looking for a profound and life changing experience, then I highly recommend Theta Healing with Ainsley! It's hard to describe the magic of this service, especially coupled with Ainsley's warm, caring personality. I experienced many breakthroughs in my life, and learned how to implement ongoing positive changes. It is a real life miracle!"
– M.K., Mississauga

100% recommended for everyone...
"Amazing atmosphere, welcoming and life changing experience! Upon entering you feel a sense of peace and acceptance. The energy of the place is captivating and the healing done is mind blowing! 100% recommended for everyone!"
– Emily Miotto, Etobicoke

Theta healing has been life changing...
"I had my 2nd session today, Theta healing has been life changing! I have discovered many blindspots and released stories about myself that were stoping me in every area of life. No more anxiety towards money, and now working on love relationships. There is this deep sense of peace and trust that you feel when you meet Ainsley. Is a non invasive therapy, just sit and relax and be present. I truly appreciated that I was free in choosing to come back or not, and not being pushed in completing X number of sessions, or had a long term "plan", that will make me feel that there is only a monetary interest. Like in life, you give to receive.
– C.Y., Toronto

Ainsley is truly a gifted healer...
"If you are committed and open to believe in the benefits then I can honestly say theta healing with Ainsley is incredible. I have tried various energy healing modalities and though all have their positive aspects the instantaneous relief I feel after a theta session with Ainsley never ceases to amaze me. She has been instrumental in helping me ground my energy and clear blockages I didn't even know existed. I highly recommend her services, have an open mind and determination, you will not be disappointed!"
– M.T., Brampton

Ainsley is such a beautiful soul...
"Ainsley is such a beautiful soul! Theta healing with her was so unique and such a blissful experience."
-A.M., Mississauga

I feel so alive and at peace...
"I feel so alive and at peace! I have never felt so much drive to pursue my goals!"
– J.F., Toronto