Reiki is a form of energy healing from Japan that helps reduce stress, increase relaxation, and encourages emotional, mental, spiritual and physical healing. During a session, the practitioner channels unseen universal life force energy through their hand's into your body placing their hands either above or gently upon your body. This life force energy activates your own healing ability, and encourages the body to rebalance itself and return a healthy state. This technique is based on the idea that there is a life force energy that creates and sustains life. If your energy is low, you are more likely to become ill, and if it is high, you are more capable of being healthy. Reiki helps to increase the life force energy flowing within you and improve your state of wellbeing. It is a gentle and calming treatment, great for those new to energy healing.
The word Reiki is made of two Japanese words – Rei which means "God's Wisdom or the Higher Power" and Ki which is "life force energy". So Reiki is actually "spiritually guided life force energy."
A treatment feels like a wonderful glowing radiance that flows through and around you. Reiki treats the whole person including body, emotions, mind and spirit creating many beneficial effects that include relaxation and feelings of peace, security and wellbeing. Many have reported miraculous results.
Reiki is a simple, natural and safe method of spiritual healing and self-improvement that everyone can use. It has been effective in helping virtually every known illness and malady and always creates a beneficial effect. It also works in conjunction with all other medical or therapeutic techniques to relieve side effects and promote recovery."
Reiki is for everyone: it heals adults, babies, toddlers, children, elderly and pets.
For more information visit: www.reiki.org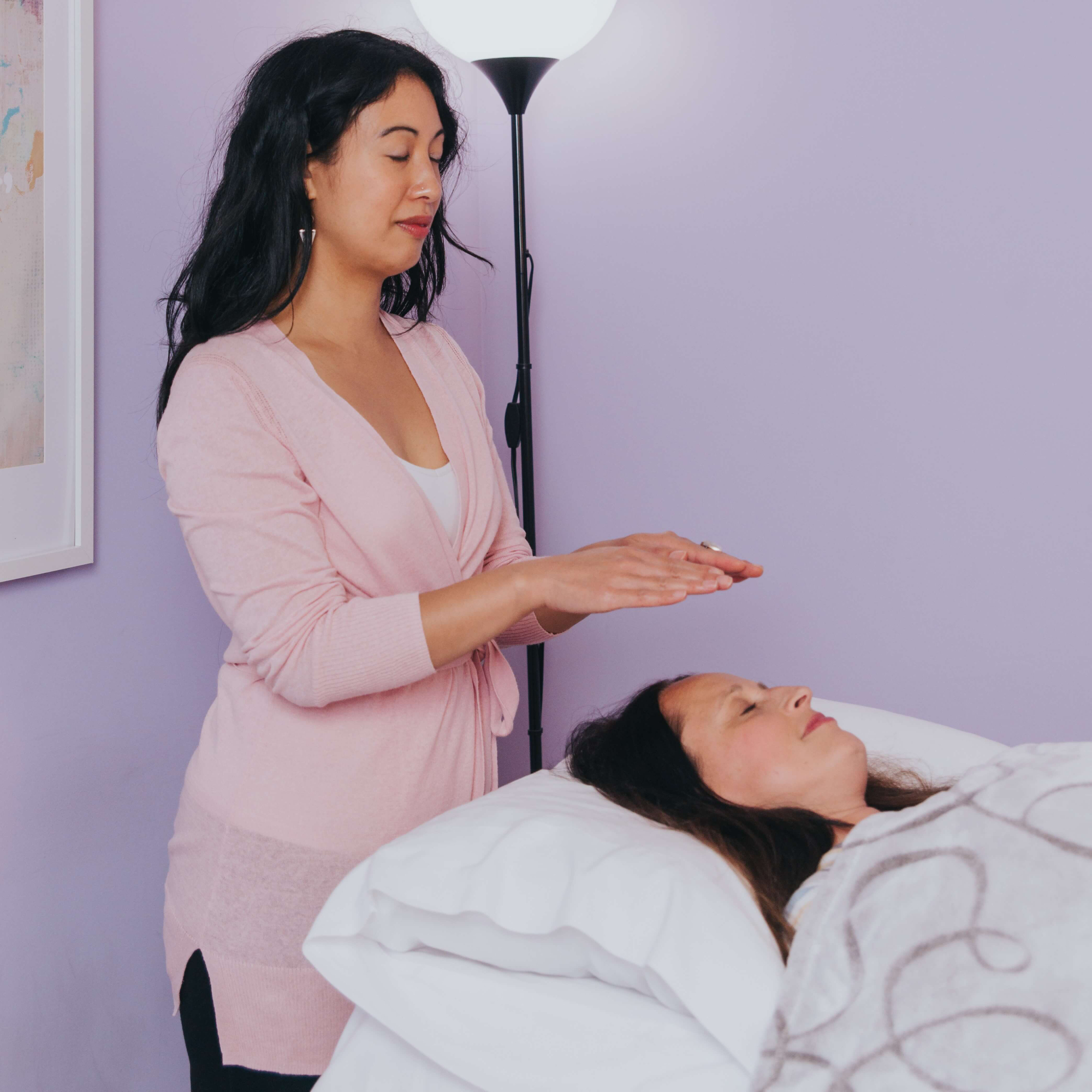 Reiki Benefits
Reiki is a holistic therapy, treating you on all levels – physical, mental, emotional and spiritual. Here are some of the benefits many recipients have experienced:
Stress Reduction
Relaxation
Pain relief
Improved Sleep
Accelerated Healing
A Sense of Inner Peace and Harmony
Enhanced Spiritual Connection
Increased Self Awareness
Released and Re-balanced Emotions
Enhance learning, memory and mental clarity (with regular treatments)
Helpful in healing mental/emotional wounds
Alleviated mood swings, fear, frustration and even anger
Enhanced capability to love and capacity for empathy (improving relationships with themselves and those around them)
Helped with the grieving process
Decreased side effects from treatments for illness and surgery
Book an Appointment Today!

I am so grateful to have met Ainsley when I did...
"I am so grateful to have met Ainsley when I did. I have tried Reiki once via distance with another practitioner and I found no difference. When I had my first session with Ainsley I was not in an emotionally good space. I had no clue if I was coming or going. I have now completed 4 sessions with Ainsley and I feel so at peace and I know where I stand in my life. Ainsley is so compassionate caring and attentive. I am so blessed to have found her."
– N.M., Mississauga

I had a great experience with Ainsley...
"I had a great experience with Ainsley and Theta healing. It was a profound voyage into subconscious, full of cleansing, healing and discoveries. Ainsley was prepared, respectful, using her experience, training and intuition to help me notice and change several subconscious beliefs that were blocking me on my current path. I highly recommend Ainsley and this modality."
-D.R., Toronto

She genuinely cares about the health and well-being of her clients...
"I have had a Reiki sessions with other Practitioners, but the session with Ainsley seemed much more unique and authentic. I feel that for Ainsley, her work is not just a business. She truly believes in what she does; she genuinely cares about the health and well-being of her clients and it shows during a session with her."
-E.L., Etobicoke

My experience has been amazing...
"I have had ThetaHealing with Ainsley and my experience has been amazing! She is so compassionate, caring and sweet. She makes you feel very comfortable. After my sessions I felt more balanced, inspired and motivated, and I had more clarity as to what I needed to do regarding my presenting concern. It's worth every single minute of your time!"
– Mely Em, Etobicoke

I highly recommend Theta Healing with Ainsley...
"If you're looking for a profound and life changing experience, then I highly recommend Theta Healing with Ainsley! It's hard to describe the magic of this service, especially coupled with Ainsley's warm, caring personality. I experienced many breakthroughs in my life, and learned how to implement ongoing positive changes. It is a real life miracle!"
– M.K., Mississauga

100% recommended for everyone...
"Amazing atmosphere, welcoming and life changing experience! Upon entering you feel a sense of peace and acceptance. The energy of the place is captivating and the healing done is mind blowing! 100% recommended for everyone!"
– Emily Miotto, Etobicoke

Theta healing has been life changing...
"I had my 2nd session today, Theta healing has been life changing! I have discovered many blindspots and released stories about myself that were stoping me in every area of life. No more anxiety towards money, and now working on love relationships. There is this deep sense of peace and trust that you feel when you meet Ainsley. Is a non invasive therapy, just sit and relax and be present. I truly appreciated that I was free in choosing to come back or not, and not being pushed in completing X number of sessions, or had a long term "plan", that will make me feel that there is only a monetary interest. Like in life, you give to receive.
– C.Y., Toronto

Ainsley is truly a gifted healer...
"If you are committed and open to believe in the benefits then I can honestly say theta healing with Ainsley is incredible. I have tried various energy healing modalities and though all have their positive aspects the instantaneous relief I feel after a theta session with Ainsley never ceases to amaze me. She has been instrumental in helping me ground my energy and clear blockages I didn't even know existed. I highly recommend her services, have an open mind and determination, you will not be disappointed!"
– M.T., Brampton

Ainsley is such a beautiful soul...
"Ainsley is such a beautiful soul! Theta healing with her was so unique and such a blissful experience."
-A.M., Mississauga

I feel so alive and at peace...
"I feel so alive and at peace! I have never felt so much drive to pursue my goals!"
– J.F., Toronto